December 24 2008
4
24
/

12
/

December
/

2008
15:33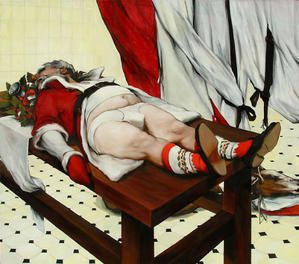 In order to make Christmas a success and not be considered as the turkey this year, we offer you the first virtual and cultural present to open right now.
Having a Merry Christmas ? The recipe is quite simple actually, you only need the right ingredients.
First of all, no Christmas without Santa Claus. The most famous resident of Rovaniemi is the main character for every respectable Christmas Party. You have the choice : classical and wise with Andy Warhol's
Santa Claus
, classical and not so wise with
Santa Chocolate Shop
by Paul McCarthy or his integral and monstrous series of Santa (the ideal choice to make your child understand that Santa Claus does not exist and it's much better this way…), the I'm-not-in-working-order-to-drive-my-sleigh on the
Last Days of Santa Claus
by Biljana Djurdjevic, the disappeared one on
Sorrow letter for the disappearance of Santa Claus
by Kostis Velonis or the too-late-no-present-this-year on
Père Noël
, a disenchanted vision by Aymeric Ebrard.
Concerning the Christmas tree, the official supplier is John Armleder:
All Night Party
(
Furniture Sculpture), Everything, Flower Power, Tate 08 Series
…The Swiss artist puts fire trees everywhere but always on a clever manner, with humor and conceptual class. You can also opt for a sharp Nordmann like the
Christmas Tree
by Shi Jinsong, abstract Christmas Trees with the plantation on
Air gets into everything even nothing and get up girl a sun is running the world
by Ugo Rondinone or a tree that can make you loose your head with the knocking down and brilliant series
Xmas Trees
by Steven Shearer.
After having bought your presents on the great Art & You shop (!) and brought a saving Yule log, you have to play with the kids. Snowmen are the best option. From the iconic
Bonhomme de Neige
by Pierre Ardouvin to the humanized
Motherhood
by Xenia Gnilitskaya, the stylized versions like
Unmelting Black (snowman)
by Gediminas Urbonas or
Stretched snowman
by Jonathan Seliger, you can free your mind and your imagination and try to reach the formal perfection of
Snowman Stories
by Cindy Loehr. It takes all sorts to make a world : the tenebrous
Snowman
by David Ratcliff, the well-a-little-bit-kitsch
Spaceman with snowman
by Thomas Woodruff, the crazy blurred
Bubbles and snowman
or the poetic
Snowman with fireworks
, both by Todd Hebert or the I'm-going-to-disappear-soon-with-this-goddamned-rain
Snowman
by Vladimir Dubosarsky & Alexander Vinogradov. Before you start, please read carefully the excellent book
Snowmen
by David Lynch.
Last step : step the scene. Snow with the silkscreen prints
Sans Titre B
by Armleder (did we mention that he is Swiss?), some fir trees under cold whiteness on
W.y.a.n
. by Luigi Presicce, and last but not least, two or three reindeers to finish : Luigi Presicce can deliver them on the same time on
Cervo
and
Eremita
.
Now you're well-equipped, you know what to do : try to have a merry Christmas and attempt to quote the name of every artist mentioned above during the traditional Christmas meal. Because it's never too late to realize one of your good resolution of 2008 : the one that concerns your wish to be interested in contemporary art…
[Picture : Biljana Djurdjevic,
The last days of Santa Claus
, 2001, 176x200cm, oil on canvas. Courtesy the artist]