December 18 2008
5
18
/

12
/

December
/

2008
15:55
The weather is col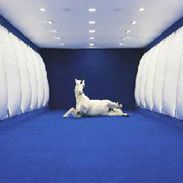 d today. But not as cold as in other countries. For instance, in Norway, the weather is much colder. Even in Oslo, that is in Southern region of the country; but in Northern Europe. Norway, by the way, has an exciting artistic scene. Well. We just brushed by the most pathetic pitch of the whole art critic history (brushed only because we know another one as stupid as this one…) but now we can talk about the Norwegian scene that export artists and leaders that show the way and are the talk of the town.
The Norwegian art scene has a Founding Father : Edvard Munch. The strong personality of the instigator of expressionism overhangs the Norwegian creation that followed him. Hard to get rid of such a shadow. Before him, almost nobody, except for children and Burzum fans (that can be one and same person… happy parents!), Theodor Kittelsen, a great illustrator with simple and amazingly expressive style, notably on the "Black Death series". Actual artists have succeeded in escaping from this expressionist past and developed their proper manner. The omnipresent Nature, the splendid and dark forests, the cold light, the fascinating nights, definitively influence the creation of each Norwegian artist, and Scandinavian artists in general. It seems a little bit cliché but not that much when you know the captivating violence of Nordic landscapes. Just notice that they created the (second) black metal scene and you'll better understand how Nature can interfere on Norwegians mood…
From this new young Norwegian scene (that is not benefiting from the powerful and fictitious floodlights that enlightened English, German, then Chinese, Indian, Russian… and French artists?), some personalities come off.
One of these is Borre Saethre, an obvious example of a dream-like use of Nature marvels. Unicorn (
My private sky
), debauched rabbits (
a million dreams, a million scars / interlude: poerty for satelites
, including the unfortunate one on
Bunny Session
), ravens (
Beauty's summer dead
), does (
the end of Bambi cycle
), Saethre creates a shadowy universe, frightening, sterilized as a set on Kubrick's movies.
Gardar Eine Einarsson is probably the rising star. He works on subcultures and how they integrate to politicized domain. His pieces look firstly a little bit cold and abrupt, especially when he adopts distanced neo-conceptual style. But, the way he uses accidents, an unfinished / infinite, punk drifted manner, shows, behind its apparent complexity, a sensible emotion.
On a similar neo-conceptual and rock attitude, we find Matias Faldbakken, another young promising Norwegian artist. He utilizes a minimalistic aesthetic, particularly on his scotch-tape writings on canvas (
Untitled canvas #16
). Faldbakken preserves Nordic detachment and reintegrates ironically the traditional Norwegian expressiveness (
Cultural Department
).
Lars Laumann is interested in strange interconnections linking unlikely popular cultures together: Lady Di and T
he Smiths on Morrissey foretelling the death of Diana
, the surprising love story between the Swedish Eija-Riita Berliner-Mauer and… the Berlin Wall on
Berlinmuren
. Laumann is on a more opened vision than his colleagues and proposes a very personal and interesting reading of decoded social phenomenon.
On a more traditional vein that alludes to a rich mythological but still present past, we have two antagonist artists. The classical and classy drawings by Martin Skauen, full of sulfurous magic (
My Atlas
,
Arctic Monkey
) are opposed to the brut thrills of Bjarne Melgaard. The work of Melgaard leaks out dazzling jolts on a painting covered with ancestral forces of Mythical Norway (even if he is born in Sydney).
Talking about magic, the collages of Are Mokkelbost are a good example. Thanks to an out of the common technique, he develops a different and colorful aesthetic. Such a perfection on an heteroclite mix must be a part of some Viking rituals.
We have to evocate the light and fantastic (first sense of the word) drawings of Kim Hiortoy and the perfectly worked but still on an astonishing reality photographs by Torbjorn Rodland. Thus, the (nevertheless very good) Standard Gallery in Oslo could legitimately thanks us wholeheartedly for this article.
Lastly, can we ethically mention Ingar Dragset, half of the duet he composes with the Danish Michael Elmgreen? Yes, we can, for two main reasons. The first one, because they are geniuses, using clever humor and conceptual scorn. The second one, because, considering that only talent matters, we absolutely do not care about the nationality of an artist.
By the way, don't catch a cold and cloak yourself, snow is announced for next week…
[Picture : Borre Saethre,
My private sky
(entrance areas et unit 2 / explosion suite et transit area et unit1 / trauma white), 2001. Vue d'installation au Astrup fearmley Museet for Moderne Kunst à Oslo. Courtesy : the artist, Galleri WANG, Galerie Loevenbruck]