January 23 2009
6
23
/

01
/

January
/

2009
12:01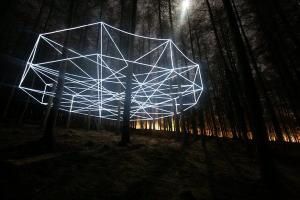 What's worth than working with neon's today on the contemporary art market? Working with skulls? Maybe…. But only just. The use of fluorescent tubes (to be perfectly correct) was not supposed to end like that. It was actually doomed to become a reserved attribute of Dan Flavin, his eternal trademark, as blue for Klein, Marilyn for Warhol, cut animals for Hirst and copy for… others. Its functionality mastered, its uses worked out, there was no reason the neon came back. But, following the postmodern example of embezzlement (of ads notably), the neon came to haunt galleries again. All kind of writings proliferated, with more or less intelligence. The great
Trajectoire de Mouche
(
fly trajectory
) by Pierre Malphettes, the
Neon Circle
by Carsten Holler or the
Je suis une merde
(
I am a shit
) by Claude Lévêque mixed up with everything and (specially) anything. Everybody lets his own little message, his little touch, his no-contribution to art history : Marcelline Delbecq, Reynald Drouhin, John Cornu. Sorry for them, they are only the latest we quickly saw recently.
It's not easy to use neon today and particularly in reference to Dan Flavin. It's not easy to overcome light too… after God. Concerning Dan Flavin, the reference and the reappropriation on Rackowe's work is obvious when he covers identically works of the minimal master (
SP3 [for V Tatlin])
, but can be more subtle when he uses industrial materials, the genuine reasoning of
Flavin
(scaffolding posts, asphalt, cinder blocks). Flavin is not the only one quoted : we find Donald Judd's influence on
Block Shelves 2
, Bruce Nauman on
Pathfinding
, Sol Lewitt on
Block
, Tony Smith on
Cube 5
, etc. We could mention kinetic art too, Jim Lambie's
Doors
, robotic : the art of Rackowe is full of prestigious referents and follows their path. However, as he puts fluorescent tubes of Dan Flavin into metal ducts and lets only weak lights escaping from their extremities, Rackowe controls his topic. He perfectly assimilated Flavin's interest for light, digested it and modeled it to create an infinitely personal work. That's the paradox: clever artists know how to advisedly use obvious and numerous references to develop a peculiar and successfully completed work. Rackowe is one of them. His work looks like no one.
Precisely, Rackowe brings a surprising touch and plays with ambivalences : a faultless finish with raw materials, an apparently complex mechanic with saved and diverted objects, the coldness of the elements with the warmth of the piece ended. The work of Rackowe is a strange and coherent dialogue between materiality and immateriality, technology and humanity. We let ourselves intoxicate by simplicity, fascinated by successful aesthetic. Rackowe reinvents a post-minimal art, powerful and peaceful. Self-confidents, Rackowe's pieces exert themselves alone, once independence won. Nathaniel Rackowe lets us discover industrial poetry like Einsturzende Neubauten does, with few means, a limited colors range and conceptually ambitious wills. That's so beautiful on its obviousness we almost forget he uses neon (too). Like Flavin made these latter disappear into light, Rackowe disintegrates them into his own glow. The neon is just a mean to access to a state of aesthetical transcendence, not an end by itself. A lesson probably to ponder over. When we see such works, we reflect that, definitively, the sale of neon should be allowed only to this kind of artists…
[Picture : Nathaniel Rackowe,
Spin
, 2006. Electroluminescent Wire, Steel Cable, 15 x 15 x 3m. Courtesy the artist & Bischoff/Weiss Gallery]