March 26 2009
5
26
/

03
/

March
/

2009
12:41
Very well located in the Artparis Fair, the Forsblom Gallery, based in Helsinky, exhibited very novating works from young Finnish artists ; we came to visit and asked the director a few questions...

Why did you choose the Art Paris Fair, as a Finnish gallery?
I did Artparis before, it is actually the forth time for us, and all the artists here are artists that the gallery represents, part are Finnish but other part are internationals, so the fair is one way to promote the art outside of our frontiers.
So could you present us some artist of your gallery, like the two very interesting and singular sculptures?
Yes, this is Hans Christian Berg, a 38 years old Finnish artist, selected as a young artist. He is very interesting, he is working basically with sculptures, and what is interesting is the way he works through the light, everything that you could imagine with this topic, the relation between the viewer and the light.
Isn't it a very perceptive work?
Yes absolutely, we have presented here those visual works but he also works with glass, iron, and many other materials.
What the title of this work, « vortex », could you explain us?
Well, it's the name of a series the type of work these are. The artist tries to visualize an experience of the inside mind. Here for example it is a poetic inside with butterflies.
You also have others works which deal with perception, like this colorfull and geometrical painting here.
Yes, this is Peter Halley, one of the major American painter, fifty years old painter.
It is a strong visual experience when we face it…
Yes absolutely, it is a very typical work of his..
And what about these small sculptures, representing a small character, alone, inside the forest?
This Tommi Toija, he is 30 years old artist, also a young artist from Finland, he works with different materials, but mainly with ceramic and wood, most of his work is about this small figure, in different sizes.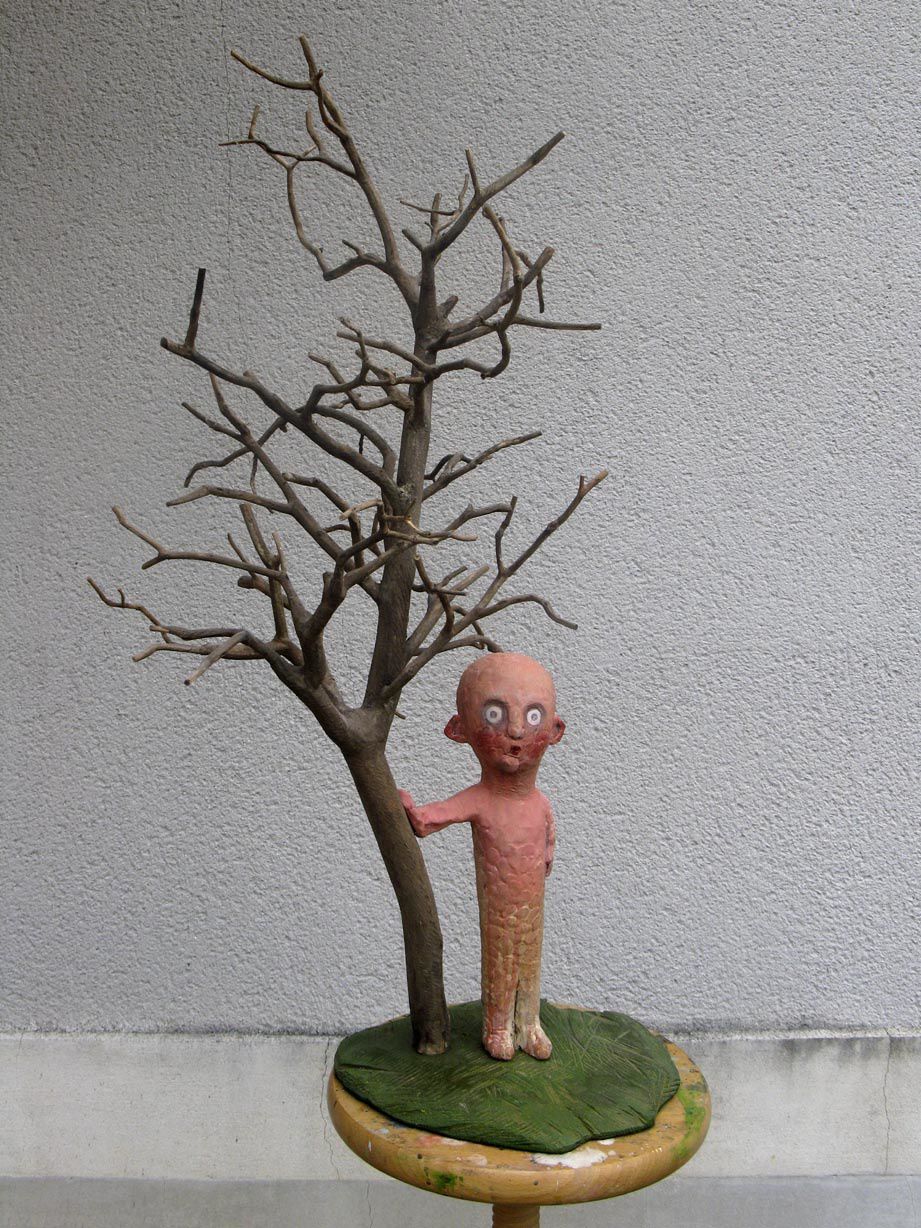 Most of the time among nature spaces...
Yes, but also alone, with different expressions.
And this major work of Julian Schnabel?
Yes, it is a very important painting, Julian Schnabel's self portrait, from 2007, it's one of the six portrait , it was in our last show in Helsinky.
What is your opinion on the Art market and the crisis, how do you face it?
What crisis?
So, you are optimistic about the future?
Yes of course, why being pessimistic, we should not be.
Thank you very much, good luck in the fair.
Thank you.


Here is the end of the interviews for Artparis Fairr, but since the Salon of the contemporary drawing is now in Paris, soon will be available new interviews and reactions about this high quality fair...

[Visuals : Above : Hans Christian Berg, Visual vortex - oily colours spiral Relief, 2008, Acrylics, 100 x 100x 33 cm. Below : Tommi Toija, Poika ja puu, 2009, painted ceramics, wood, 80 x 43 x 50 cm. Courtesy Forsblom Gallery]