June 24 2009
4
24
/

06
/

June
/

2009
16:37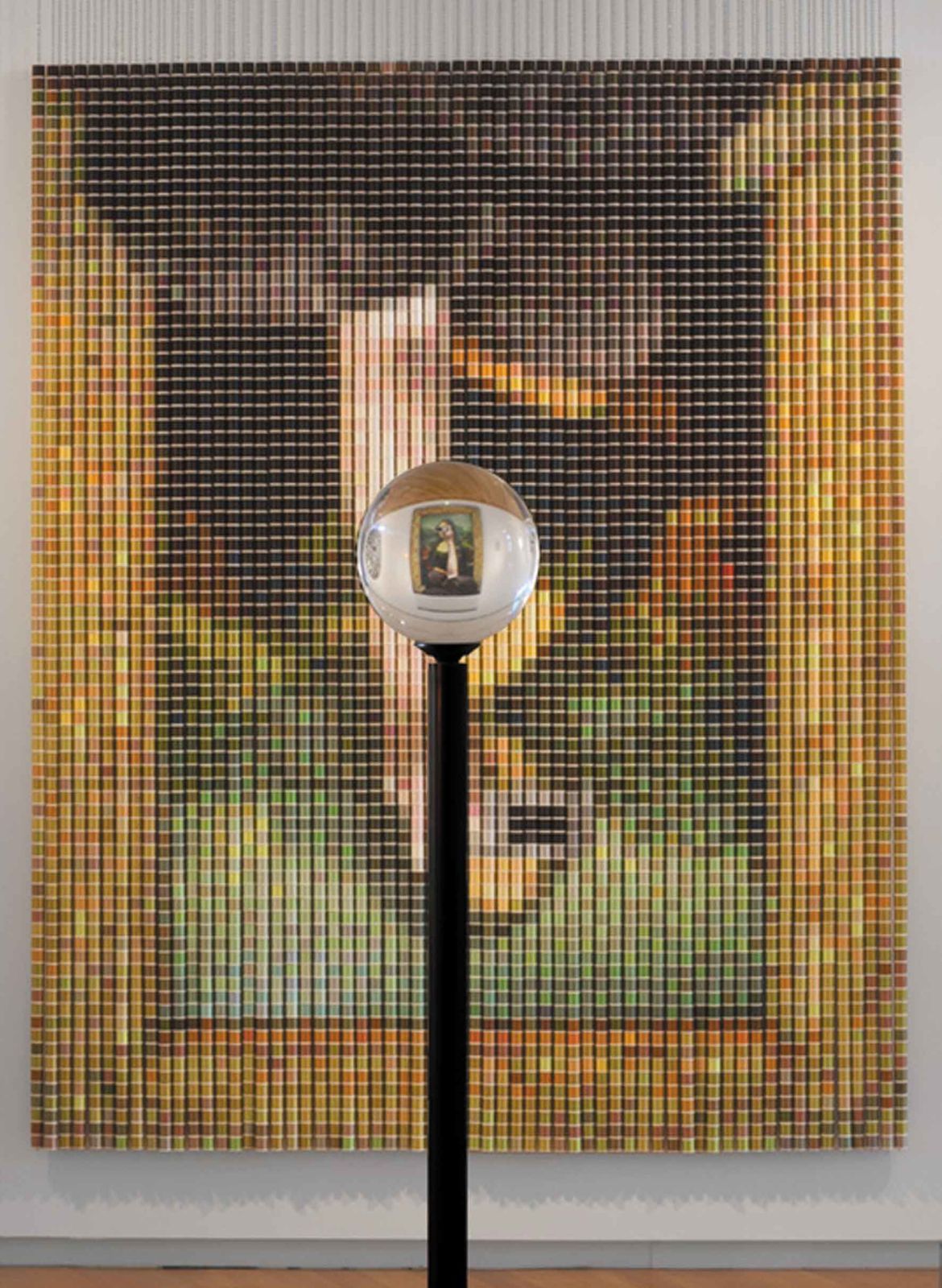 From 5th June until 30th of July, Nordine Zidoun Gallery present a spectacular exhibition showing the talented Devorah Sperber's body of works : « Clin d'oeil au Louvre »


Tell me about your works. Why did you choose the spools of thread as a material ?
I selected spools of thread because it reminded me of digital pixels. And, as a sculptor, I was thinking about digital pixels : they're nothing to them, they represent the idea of nothingness. The sculpture is about volum, and mass, and material in the real world. Thread spools are very beautiful objects, they also common in range in 3'002 colors. They're square, so they're pixel like, and they're readily available, so if I need to buy thousands of them, the coats and Clark shop can provide me with every color I need.

How did you come to use these optical device ?
My first studio was so small that I couldn't back up far enough to see the image in the thread. Originally my plan was that I would just have the thread spools and you'ld stand back at a certain distance you would see the image, and as you walk for, the image would slowly disappear into the abstraction of thread. But I had some binocular in my studio. And so I picked them up and flipped them. And so it shrunk the image so dramatically that it made me think : « What does this mean to my art ? » isn't it more intersting to see a radical change in scale. Standing close to the work, you'lle see the spools of thread, and instead of having to walk away all across the gallery to see the representation image, this offers you the opportunity to see both of the photographic image, and the spools as abstraction, right here right now. It was an accident that I had the binocular but it became the begining of my usual optical devices which most of my works include.
How did you get interested in neuroscience ?
I became very interested in neuroscience when a friend of mine, who was neurologist, came in my studio, and he as looking at my work, and he said : « tThis is neurological priming » and I : « What is that ? » So I looked it up, and basically, this is how the brain learns to make sensitive visual information. Just like a baby looks up, it sees two dark dots, and eventualy realizes that's is mother. And « Mother provides me everything I need ». As the brain of the baby developps, it's able to see more details and begin to understand : this is a face, not just two black dots, there's a nose ; this face is different from other faces. My work in that sense was a type of neurological priming in that the brains of the viewers were needing to rise up to the occasion to learn to see the new imagery.
And that let me into researching science ; really what's happening in the field of neuroscience is so cutting edge, so fascinating I'm able to capture some of theses informations and to provide direct experiences so that people can see what neurosciences is learning about the brain, and experience from themselves in front of the work. One perfect exemple is how the brain is filling missing information. If you see a dog running behind a white picket fence, you don't have to question : « What is this brown thing behind this fence, keeping appearing ? » You know it's a dog, you fill in the missing dog. So I'm giving very little information, and the brain is filling in data, and making it possible for you to recognize it. That's just one exemple, there's many many more.

How did you choose the different pictures of the exhibition ?
This is the first time I've made works specifically for a city. The original paintings of these works are all in different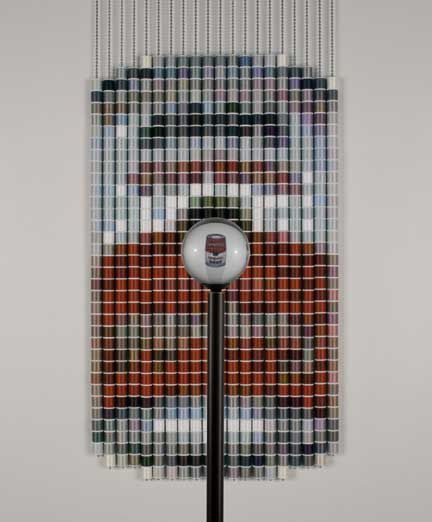 museums in Paris. The first reason was : people in Paris likely would recognize most of all these iconic paintings, not all, I didn't want to make it so easy. After looking at maybe 2'000 different images, I picked works that broke apart abstraction into a beautiful way. If you never saw the sphere, I want that thread spools works to be a stand alone art object. It's as important to me what it looks like in that abstraction as the image in the sphere. So after looking at many many images, I selected a variety of different colors and different compositions, but they all appeal to me in their abstraction, as well in the representation. The one common element is that this paintings are iconic in some way so that enough people recognize them. It would'nt be that interesting if I would pick the most obscure abstract painting from the most osbcur artist and made a thread spools of it, you'ld see the abstraction, you'ld look at the sphere and see an other abstraction. And if you don't know the painting, what's the point of the sphere ? Picking things that are iconic, that are in the memory already makes us possible to see the image.
Do you think that artists always redo the same iconic pictures ou paintings ?

I think a lot of artists are influenced by Cezanne, they think « oh I'll start with him and then do my own thing , being very obscur about the reference ». We're so influenced by so many things : there's something I like about being direct about it. I'm not hiding the fact that I'm inspired by Cézanne or Van Eyck.The more you look at different images, the more you think : « is there any new image? » Abstraction have been done, landscape have been done, anything I do is gonna remind somebody of something anyway. So why not just take something and let people see it instead of saying « oh, that's like this or that » people make the references anyway.
But this is just one body of works, I've also done things not based on art historical references.
Interview by Mathilde de Beaune