May 6 2009
4
06
/

05
/

May
/

2009
14:14
At the Workspace of the
Blanton Museum
, Lisi Raskin investigates these parallel and contradictory movements of the accomplishment of the American dream and the growing fear of an atomic war through an immersive environment, "Armada".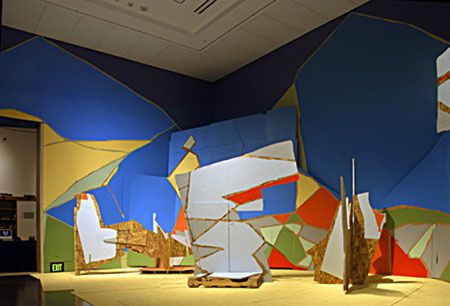 This exhibition, curated by Risa Puleo, is a group of sculpture whose forms are based on military airplanes and aerospace crafts, surrounded by a landscape of abstracted painting with bright colors and simple geometrical shapes. Materials and forms are studied in order to embody both fears and dreams of the American society.
Indeed, for the past ten years, the heart of Lisi Raskin art is based on the complex emotion that went through the Americans during the Cold War. From 1947 to 1991, technologies and innovation were developing very fast, as the economy, which created this very idea of the American dream. At the same time, people were afraid of the possibility of an atomic attack, and the scientific researches were all turned into this direction.
Thus, many sites were created all around United States for military defense system, and her work focuses on these zones of power. During her investigation for the project "Mobile Observation (Transmitting and Receiving)", Lisi Raskin visited an Air Force base at the Aerospace Maintenance and Regeneration group (AMARG). It is a storage facility which has about 4000 decommissioned military airplanes and aerospace crafts. This huge amount of materials became for the artist an image of this mix of anxiety and aspiration.
"Armada" tends to recreate this cultural, psychological and political landscape of the United States. The universe she builds, by the use of simple materials and colors, appear like a childhood dream; they come to contrast with the warrior forms of the sculptures. We pervade a world both historical and actual. Indeed, despite of the end of the Cold War, anxiety is still very present in American minds; September 9.11 trauma shifted from the fear of U.S.S.R. to Islam… a interesting parallel to put in perspective.
Lisi Raskin will speak about her WorkSpace installation on Thursday, May 21 at 7 PM at the Blanton Museum of Art. The exhibition will be displayed until June 21.
Born in Miami, Florida in 1974, Raskin received her M.F.A. from Columbia University in 2003. She has since exhibited internationally in solo and group exhibitions in New York, Los Angeles, Berlin, Glasgow, Milan and Stockholm.
[Visual : Lisi Raskin, Installation view of Armada, Blanton Museum, 2009, Photo by Rick Hall]