March 17 2009
3
17
/

03
/

March
/

2009
12:09
The Cheim & Read Gallery offers us a world of faerie in presenting, until March 21st, the latest works of the British artist Paul Morrison, mixing sculpture, paintings, and an animated film collage, Sponzia.


From afar, the canvas could be taken for those wood engraving of African and Oceanic art: a large and strong black line, forming a cartoon like drawing, depicts a smooth world where nature seems to have all his place, even more...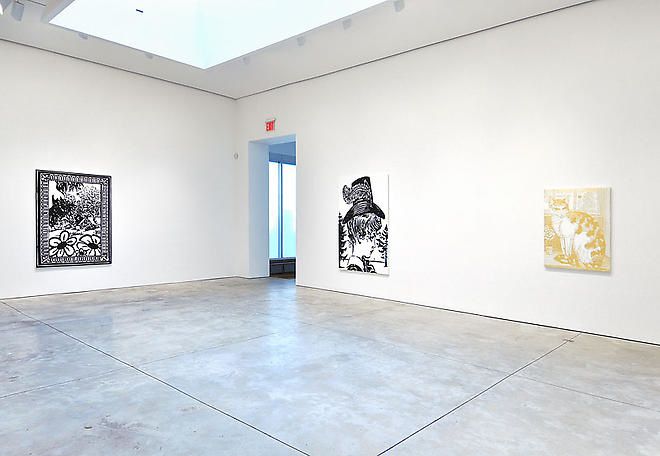 In fact, his references are taken from popular and classical imagery: botanical pictures enlarged to over human size, sweet feminine figures coming straight from a kind of Lewis Caroll books. Here is no fear, just the strange feeling that we enter in a totally different world.
Used to only black and white works, we will be pleasantly surprised to see also gold leaf canvas, and a silver one. The link to the old- renaissance- times is then done, when the nature was still mysterious and magic. Thus we won't be surprised to face two huge dandelions (one silver and one black), oversized galvanized steel and aluminum sculpture (about 10-foot), reflecting majestically its environment.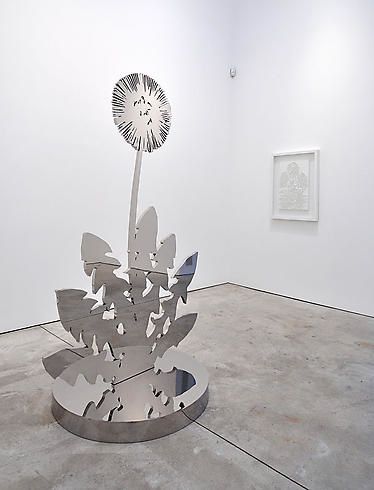 "Morrison's compositions are the result of an intensive and detailed process which rethinks spatial and historical juxtapositions. He manipulates his selected source imagery, removing color and editing detail; separate images are then collaged to create an original composition. The final image is projected on canvas (or, for site-specific murals, directly on the wall) and painted in two coats of black acrylic. Often large-scale, Morrison's work reinterprets the physical space in which it is shown. Morrison creates shifting sensations of scale and space, and allows for associative interpretations of the various stylistic constructions of his imagery."
In the Lewis Caroll's world, everything becomes a non-sense, but, after all, some very truth ideas can rise up. In the fantastic world of Paul Morrison, that we have the chance to be very well composed in the Cheim & Read Gallery, we will get a smooth and delicate experience, thanks to the fine arabesques creating those light and magical images.

[Visuals : Paul Morrison, installation view at the Cheim & Read Gallery, New York, 2009. Courtesy Cheim & Read Gallery]