January 23 2009
6
23
/

01
/

January
/

2009
12:23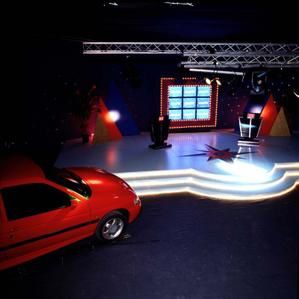 An artist, by nature, tries to be different, to be unique, personally and into his work. What could be more frustrating than being stupidly compared to a simple homonymous, without relationship or direct correspondence concerning the realization of your work? And worst, when you are Dutch and we connect you to a Belgian person (friendship relationship between the two countries are clearly slackened for two centuries now… at least).
Well, maybe it's not that stupid, with the exclusion of their family name, to parallel Guillaume Bijl, Belgian artist born in 1946 and Marc Bijl, Dutch artist born in 1970. Without family relationship, they still share common ancestors: Flemish Primitives. Without analyzing the work of Roger Van Der Weyden, Robert Campin or Jans Van Eyck (go to Richelieu Wing, 2nd floor, Louvre Museum), we can find, shortened and brazenly, main axes of their revolutionary characteristics: the implementation of the Sacred into everyday life, an obsessive attention to details and execution, the luminosity and supernatural transparency by technique and ideological dimensions. These specificities qualify pieces by Marc and Guillaume, revolutionaries to the (Flemish) core too. You might think that everything is in the genes….
The (fake) Bijl family likes to reveal our everyday life, to analyze our society, on its socio-economically and geopolitically dimensions. If Guillaume enjoys to rebuilt our tragic and banal environment into institutions and galleries turned into driving school, supermarket, launderette or dispensary (called "presentation installations"), Marc chooses to reinterpret symbols of our society (Lara Croft in
La Revoluzione siamo noi
, Nike in
Symbolic
or Bluetooth in
Symbolic IV
), embezzles and makes up them in order we better absorb their perversity and power. Both practices are liken to a kind of present archeology, digging, exhibiting, excavating a reality buried under the thin couch of our incapacity to detect the truth. Study the present to help us comprehend the immediate future is a strange game with time and length notions.
Our hostile brothers introduce religious feeling, frontally and explicitly. Guillaume Bijl on
Het Nonneke Van Brugge
and
Archeological Site
(one of the "sorry installations"), respectively a nun mannequin seated in front of a crucifix imitating reality, between trickery and found ready-made, and a church tower slightly dug up, a brilliant piece mentioning religion relationship and confronting its chtonian and mystic dimensions. Marc Bijl, in the same manner, confronts religion on
Aftermath
, a metal cross inserted in a concrete block,
Oh God there is no God
, a Dutch flag embroidered with this sentence, or
Fundamentality V
, a luminous panel set in building materials, put in front of Tilburg Church, questioning exchanges between metaphysical impact associated to minimal art and the decline of religiosity and the respectful attention we dedicate to it.
Finally, the anti-authority dimension is the strongest link between the two artists. It became a trademark for the Dutch one. Tags (
Terror
or
Resist
on the columns of the entry of institutions), peace symbol put on fire (
The burning peace
), armed Statue of Liberty (
Freedom
)… We could multiply examples of claims and commitments proliferating on (Marc) Bijl's work. Concerning the Belgian one, the rebellion aims at societal and artistic system since the very beginning of his art production. Spaces hijacked (see above), exhibitions of museum collections of bidets, leather waders, erotic pieces…. on a formalist criticism that spares nobody, artists themselves and curators, art centers and art mercantilism, him and art itself too.
If Marc rejects the Flemish cause thanks to a raw and anarchic realization (drips, handmade writings, tapes and stencils on a great historicist reminding of Mondrian work (another Dutch artist), more primitive then, Guillaume Bijl wishes to create a meticulous hyperreality, carrying out precisely falsified installations but he knows, through found objects, to get closer to punk violence too. They both create an elaborated and compact work, intimately shining of transcendental light, reminding Flemish genuine "devotio moderna".
By the way, "Bijl" can be translated by "ax". Marc and Guillaume are, fundamentally and in their flesh, two Flemish well equipped to lead an artistic… and Primitive war.
[Picture : Guillaume Bijl -
TV Quiz Decor
, 1993. Collection Vlaamse gemeenschap/MUHKA Anvers. Photo : Syb'l S-Pictures]