May 3 2009
1
03
/

05
/

May
/

2009
14:34
Until May 30, you will have the pleasure to pervade an aerial and mystical atmosphere through the exhibition of Robert Longo's latest works, at the
Metro Picture Gallery
, New York.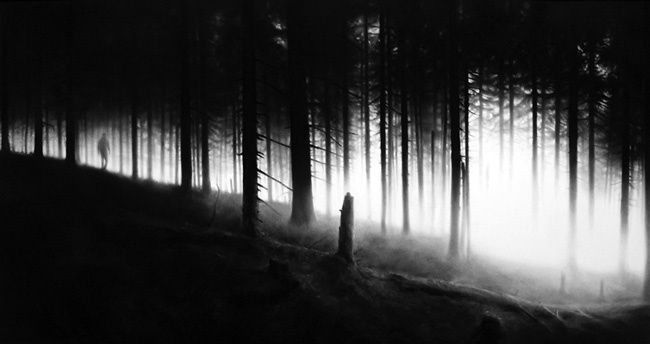 Robert Longo was born in 1953 in Brooklyn, New York; he has always been fascinated with the mass media culture. Famous for his series "Men in the cities", featuring businessmen in contorted gestures; he now seems to aim more at contemplation and purity. These new works reflect a search for those moments which evoke transcendence. It is with a brilliant play of lights that he succeeds to embody this overwhelming feeling. Indeed, his unique charcoal drawing technique, deep blackened expanses with sharply contrasting whites including nuanced grey tones that evokes smoky hazes and softened elusive forms; brings us faraway from the too fast consumerism society.
Evocation of solitude and meditation in "Untitled (Et In Arcadia Ego)", where the distant shape of a man, walking in the forest, goes into the direction of a light bath. A mystical feeling is brought out in "Untitled (Cathedral of Light)", a 25 foot drawing representing a mass, with a huge stained glass window through which the light enters and makes the whole scene vibrating. This centerpiece embodies so well the title of the exhibition as a quest for the intangible, and how men try to reach it.
Like a broken glass window, the satellite view of Tokyo smashes into our eyes like the feeling of a car accident. This amazing net of shining lines give a new image of one of the biggest cities in the world. "Untitled (The Sound of Speed and Light)" evokes a concert stage where the light is flowing over the musicians. It looks like the music is taking them out of the stage, in its invisible and abstract world.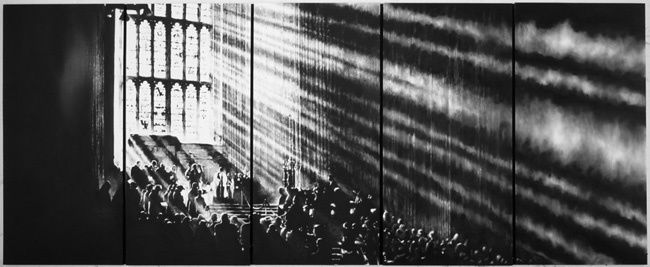 Among these group of large scale drawings is placed a 12 foot tower of four black charcoal drawings framed behind a glass provokes a chaos of reflections into which we loose ourselves. All these works, more than a powerful demonstration of drawing, are an illustration of how art can exceed its material essence and whisper to our eyes philosophical questions.
We enter into an abstracted imagery, where our senses get to go closer to the essence of light, as an infinite power of transcendence. Therefore, what is really transcendence? "Surrendering the Absolutes" approaches this metaphysical question and gives us a metaphor of transcendence as illumination of the mind.
Robert Longo has had solo exhibitions at Hamburger Kunstverein and Deichtorhallen, Menil Collection in Houston, Los Angeles County Museum of Art, Hartford Athenaeum, Isetan Museum of Art in Tokyo, Museen Haus Lange and Haus Esters, Krefeld, Germany and the Albertina Museum, Vienna. Group exhibitions include Documenta, the Whitney Biennial and the Venice Biennale.
[Visual : Above : Robert Longo,
Untitled (Et In Arcadia Ego)
, 2009, Charcoal on mounted paper, 60 x 114 inches, Courtesy Metro Pictures Gallery. Below, Robert Longo,
Untitled (Cathedral of Light
), 2008, Charcoal on mounted paper, 119-7/8 x 59-3/4 inches (each panel), Courtesy Metro Pictures Gallery]