April 16 2009
5
16
/

04
/

April
/

2009
15:00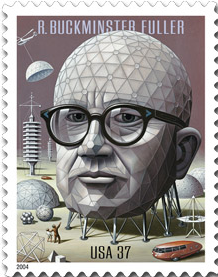 The
Museum of Contemporary Art of Chicago
presents, until June 21, "Starting with the Universe", the first major exhibition of one of the greatest American thinkers and visionary of the 20th century, Richard Buckminster Fuller.
Born in 1895 in Milton, Massachusetts, this philosopher, inventor, teacher, architect and mathematician, decided in 1927 to always and only work for all humanity, in the global problematic of poverty, disease, and homelessness. In 1947, he started teaching at Black mountain College in North Carolyn and exposed his major invention, the principle of the geodesic dome: "the only kind of building that can be set on the ground as a complete structure--and with no limiting dimension. The strength of the frame actually increases in ratio to its size, enclosing the largest volume of space with the least area of surface." This structure is based on the study of nature, precisely on plancton's organism, using their simple form as the tetrahedron, octahedron, and the closest packing of spheres, making them lightweight and stable. The patent for geodesic domes was awarded in 1954. Today, we own him over 500 000 geodesic domes.
Then he became acknowledged by the American society: in 1959, an exhibition at the MOMA of New York consecrated him. In 1967, he was chosen to be the curator for the United States Pavilion at the Universal Exhibition in Montreal.
The visionary idea he had was to create and use deep technologies in order to save humanity and nature. He already had, in the late 20's this awareness of the waste of nature's resources we were using, and was already thinking ecologically. His adage was: "More for less" : More technologies for the fewest resources. The goal was to explore at the maximum the capacities of human technologies in order to save the society from their own waste.
As part of the New England Transcendantalist, he adhered to "an idealistic system of thought based on the essential unity of the natural world and the use of experiment and intuition as a means of understanding it", in fact, he considered necessary to place faith in the integrity of a regenerative universe.
Housing, transportation, communication, cartography, he explored many different ways, inspiring himself from organic structures. They are all presented in this exhibition through a combination of models, sketches, photographs, and scale models.
When I think about a problem, I never think about beauty, only how to resolve it. But when I finished, if the solution isn't beautiful, I know it is not good

This exhibition is organized by the Whitney Museum of American Art, in association with the Department of Special Collections of the Stanford University Libraries