April 4 2009
7
04
/

04
/

April
/

2009
13:21
At Slick Dessin Paris, we noticed a British Gallery -The Cynthia Corbett Gallery- , which came with some very interesting and fresh projects ; Cynthia took some time to explain us the path of those young artists and share with us her passion...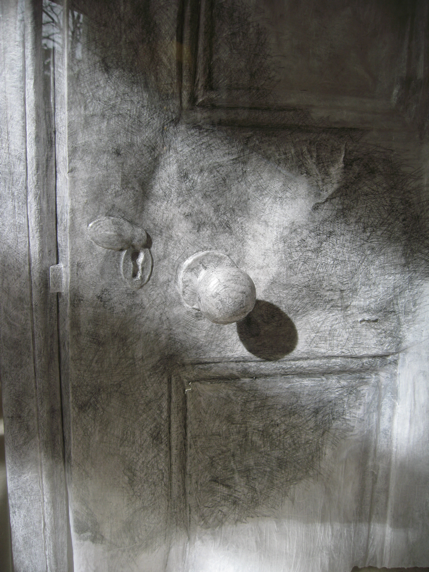 At Slick Dessin, you are the only British gallery in this fair, what did you want to share with the French public?
Well, it is very interesting at Slick Dessin this year because I made the decision to take two very well known British artists. One is Ghislaine Howard, she is a Anglo-Irish artist best known for public works, and then Andrew Burgess, with his new series of collage and drawings. He is known for seascapes paintings, he has huge collectors all over the world. So I decided to take them and, with the rest of this space, introduce young emerging talent that were very focused on dessin to see how that the public would react and give them the opportunity to show for the first time their work– or in the case of Drew Walker the second time _ in Paris. And the reaction has been fabulous, because the work is so fresh, so unique and so interesting. Obviously, because they are not well known name, the collectors hesitate to buy them, but the interest is really strong.
The first artist I would like you to talk about is Valerie Joly and her fantastic sculptures-drawing
Yes, she is actually French, Parisien, and she and her family moved to London 15 years ago. I was introduced to her by another French artist who I work with. And I was absolutely blown away because she does sculptures, with anything. She could do sculpture of a drill, a door, or other material elements… In the case of what is presented in Slick here and in the center of Slick Dessin is a vanitas. It is in the nature morte's tradition which really attracted me because it is part of the old master tradition which I really like. But she has done all her work with tissue paper and graphite pencil and with a special material to hold them together. I can't tell you more about the technique because I don't really understand it myself, but it is unbelievably unique. The idea of creating a sculpture with tissue paper, such a common and weightless material is very interesting. She is using sculpture and taking it to another media and this what make it so contemporary. I mean, the fact of using tissue paper as a material for a sculpture is also a form of play. She is playing with history of art, old tradition sculpture and with us. And her interest lies in, again unanimated object, and, as a contrast, vanitas, which turned to inanimate. She also aims to enphazise the contrast between the ephemeral qualities of the tissue paper and the monumentality of the objects she casts. As for the exact technique, i like to keep a mystery about it. They are for me a trace, an vapourous evocation of the original.
Do you know if she has other projects ?
She is going to continue on sculpture. She won an award, from the Royal British Society of Sculptors in 2008. It was largely for this most recent work that are presented here a Slick. But I pushed her really hard to come up with something. And I think that this door is in the same time her exit for some of the things she has done in the past and her entry into sort of new inspiration and kind of really going for it, experimenting completely what she can find. She actually wants to play with the ambivalence of the inside and the outisde for this door, but also presence and absence, reality and dreams.
Okay, so now let's go for those baroque cities drawing of Elizabeth Cullen. It represents London or New York and deals about the perception of those cities. What is she seeking for in these works?
I saw her work in a design show. So she is coming from design. I was really drown to her, sort of a physical nature of the drawing; I just found it really unusuall; She calls it geographic psychological maps. The process is this one : she takes a real map with her and then she creates this fantasy world based on whatever she has decided to map out. She wants to capture the sensations given by her environment. One is on Chinatown, another on Trafalgar Square. They are all done on tracing paper, so it's a really fine work drawing technique. She has done the same thing for New York. but with varied media, reflecting the very different movement of this city. She is running us to look at the cities in a slightly spiritual and religious way. It alsot akes you back to those famous drawn maps in the old master history. So here is again a link between contemporary art and art history. It is not a copy, but they are derivated, reinterpreted following her own feelings. It's a very intimate and authentic work. And technically she is an incredibly gifted artist. She also made this little series of lithographs, they are hand colours and hand drawn. She wanted to do some maps but into light boxes, it is her project, but it is very expansive, we have to wait a bit...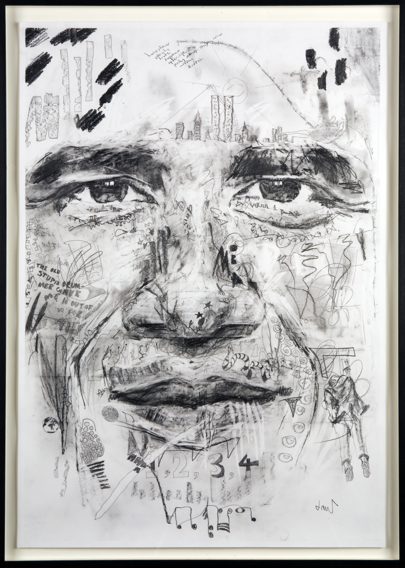 Let's go to Drew Walker, who draws portraits of famous people, and adds, inside the face, those kind of very instinctive and free lines, which makes vibrate the whole work.
He is the youngest, only 23 years old. He is really gifted, if he could stay on track and focused it would be, to my opinion a very big artist. He has such a gift for drawing and portrait. But actually what you see is
graffiti
. Everything that he has done is a graffiti image of famous people. When we you look from 10 feet from the wall we perfectly recognize Warhol, Twiggi, Johnny Deep and my favourite, Obama, but when you go closed to the work, what you find is a entire graphitized narrative, totally unique to that person, and Drew Walker's feelings about him. That's his interpretation, and you find it in all the details he adds. There are a lot of text involved, a lot of doodles, and small images, it's a complete graphitized portrait. Some of them are purely black and white, some other are coloured.
If you ask him, "why is there an airplane coming from Andy Warhol eyes ?", he would probably say, "I don't know, I liked it"; But I think there is a reason for every line he did and in the mean time it could be just instinctive. This is the mystery I like.
Does he have any other projects apart from drawing ?
Well, I am pushing him to go back to the art college. He just did one year and came back with the incredible work. But now he is studying linguistic in which he is brilliant, speaking now three languages fluently besides English, but I think he should go to get an MA form art college. He could be a very important artist in the future. So let's see what will happen, what path he will decide...
Between him and Valerie, these are the artists who got the most attention. Slick even used one his picture for the website and the publicity. His work is really special.
The eyes for example, the look from those famous people that he projects on us is so intense and deep…
I think it's a bit spooky. It shows that he is a very conflicted person, he is actually very insecure about his work. I hope he will get to understand to importance of his creation. That is true his way of framing and the intensity of the eyes conveys a very strong presence of each people.

Fine, so let's now pass on those fantastic collages of Tracey Eastham
Tracey got her master degree of Fine Art Painting in Wimbledon College of Art and Iactually thought she was really gifted. But she had a real problem with how to present, protect the work, and insure it wouldn't be damaged. Because it is so fragile. So I couldn't show her work for two years. It also has this specificity of being double sided. So we made a glass on both side, and you could just hang it from the ceiling and have a double image. It is now as well protected as a collage could be. As for the topic, again this artist is playing with art history. national english references and, her own passions. So she borrows from all these old fairytales books, novels, and it's a world that when you look back at it you always think it was so perfect.
Very romantic, sensual and nostalgic?
Like a symphony pastoral, it really reminds me the countryside environment, like those stereotypes landscapes. In the mean time there is a hint of dramatic human presence using references from the 18th century English School of romantic painting.
So the use of the media is very contemporary but the subject is actually in the past.
I think that calls us to our sentimentalist side. Because in a way we are all sentimentalist of
a
past or
the
past. It was less complicated, more beautiful and simple before. She really fits that chord. But, if you look really closely, there is a very dark side as well, a lot more actual. I could fit the entire room with this work…
To finish, what are your impression about Slick Dessin ?
Well, the opening was really packed, so it is good. But it need a bit more recognition, publicity. It's not le Salon du Dessin Contemporain, but the work is so fresh and unique and the place is amazing. Beside the prices are affordable. Maybe you take a risk, but you would definitely enjoy the work you chose.
Gemma Nelson is also a young artist from The Cynthia Corbett Gallery, the precedent article is entirely dedicated to her, with an exclusive interview. Click
here
to read it.
For further information, you can contact at
info@thecynthiacorbettgallery.com
| +44 (0) 7939 085 076
[Visual above : Valerie Joly, This side and beyond I, 2009, tissue paper, pva, water and graphite pencil in Perspex box, 30 x 22 x 4 in free standing. Courtesy The Cynthia Corbett Gallery. Drew WalkerObama, 2009. Graphite on Paper, 23.5 x 31.5 in. Courtesy The Cynthia Corbett Gallery]