March 22 2009
1
22
/

03
/

March
/

2009
14:37
If you still don't know the work of the German artist Lothar Hempel, it is the occasion to visit the
Anton Kern Gallery
(until March 21
st
), and pervade his theatrical and sensual world.
Best known for his series of painted portraits, Lothar Hempel goes far into the idea of art as a show. Mixing larged diamond shaped photomontages, sculptures and painting, the whole with flashy colors and geometrical shapes, "Kats, Nerves, Shadows & Gin" plays with the mind of the viewer, to whom he offers to create his own story, in relation with his own psychological character.
In fact, the artist plays here the role of a director: the space is arranged in order to create a script, as much open as possible. Now it is our turn to let merge the flow of our inspiration in relation with the plastic proposition.
"Das Dreiek" (the Triangle), is an installation composed by a refrigeration unit in which we find elements of the everyday life, as two cakes, a Corona bottle, fake cocktails and a woman, looking at us. Behind it and centered, a tall representation of a woman, is the exact tipical position of Jesus, but colored in fuchsia, red and black. A modern Trinity is here settled.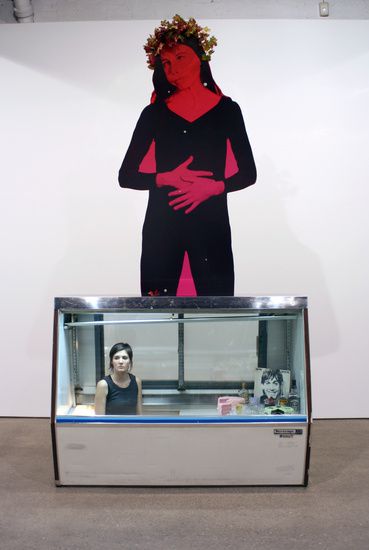 In the middle of a room, an a large low pedestal, a small sculpture of a man, with a metallic stick and a green hood, looks placidly straight. This enigmatic piece can take us far in our imagination.

Next to an eight-foot reflective phallus, which genitals are represented by driving wheels, are standing two sculptures on a pedestal, one green and another orange. In an antic Greek style, they lead us to the image of the Milo Venus, ideal of beauty. The contrast of the values conveyed by the sculpture, mixing modern colors and ancient forms, and standing next to the phallus is simply amazing, and magestically breaks all the codes.

"Their overall behavior, firmly anchored in cultural codes, entails a set of discernible bodily movements, postures, facial expressions, as well as color and tonal modulations that take on strategic social value within a moral context. Our gaze is opened to a kind of sprezzatura, an "aristocratic cool", that in the past has related to frank amorality and love or illicit pleasures behind closed doors."

Figures and objects are directed in a colorful ambience, dazzling all around. We found ourselves in undefined time and space, since the materials and the forms used are a melting pot of all times and values. Are we back in the ancient Greek theater, in the eighties, in the future or just in this singular era that is our? It's up to us to choose… or not.


[Visual above : Lothar Hempel, Das Dreieck (The Triangle), 2009, mixed media, 2009. Courtesy Anton Kern Gallery]