February 9 2009
2
09
/

02
/

February
/

2009
15:51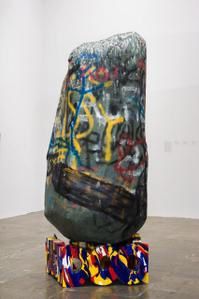 Dan Colen looks like a hood, a bad boy, a nonchalant genius fearing neither God nor man, detached and rebellious. He's got the whole outfit, till caricature: the attitude (a "nihilist" would say Jeffrey "the Dude" Lebowski), the sloppy look, the tattoos, the gang (no, we will not mention the names of Dash Snow, Ryan McGinley, Nate Lowman, Aaron Bondaroff & Co. as in every article about Dan Colen. Is it an obligation, a pact?...). A rebel we love to hate and hate to love too. One of these ephemeral leaders, master of the Lower East Side, a layabout star, a hero-worshipped junkie (Pete Doherty style), an happy few of New-York parties… The problem is that Dan Colen is everything but that. Well, almost. Let's say that his aura and reputation are for the most part created by the medias, the same ones that will complain soon. After all, "we only sacrifice the things we love" said the
Voodoo Child
philosopher, right? So, let's love him first, we'll see what to do with him later…
Actually, Dan Colen is a complete artist: technically gifted, conceptually relevant, master of his references and conscious of art history. Coherent, disconnected and slightly provocative, his work makes light work of pretences and keeps on fighting prejudices, starting off with the ones he's directly involved in. He's not a poser but composed, not an offhand person easily productive but a reflective and patient artist. Dan Colen creates fake things, i.e. art. His emblematic piece of that production is
Secrets and Cymbals, Smoke and Scissors
, an identically reproduction of bedroom's wall of his friend Dash S. (remain anonymous: see above comment). Facsimiles, artifacts, forgery and use of false documents, everything on this imitation wall is here to deceive us, questions our relationship to the real (objects) and the reality (wall exactitude) and introduces the living on the museal morgue (like the installation
My Bed
by Tracey Emin). On
Get High
or
No Sex, no War, no Me
, Colen paints illusory tags (like Tony Just pastels) and integrates falsified pieces of reality into art domain. The Untitled pieces (
Eat Shit & Die
,
Zippideedoodah
,
Vete al Diablo
), totemic menhirs, emblems of a civilization, function on the same principle. Giants of paper mache put on titles/promontories, they perfectly reproduce a reality that doesn't exist. A kind of décor of a future discovering a past that never existed. The monoliths are tagged as if the Youth had voluntarily damaged lost monuments, had appropriated the potential danger contained on these blocks of emptiness.
The falsehood interferes into his complex and devious relationship with painting. The Birdshit paintings, realizations of mucks realistically and precisely executed, position painting between disgust and calculated irony towards great American abstraction. One more time, the real is masked and progresses under Colen's pictorial games. The series of copies of a candle extracted from
Pinocchio
's background (Walt Disney Studios, 1940) is revealing of a perverted and perverting practice of the painting medium. Repeating the same subject on a faithful style to original (cartoonisc photorealism) points up minimal differences between two different copies of the reference book. His personal touch animates words born on candle smoke and give sick titles to the final pieces (
Fuck, Untitled (blow me), Untitled (Boo Fuck'n Hoo)
…). This particular conceptual approach to painting derivates from the feigned photorealism of the beginnings with its improbable titles (
Madonna and the Fairy Madonna and the Fairy (" First they exchanged anecdotes and inclinations") / The Firecracker and the Old Man ("Just leave me alone")
). The anxiety of exterior as reality and his appropriation by the execution portray on his rewriting gesture on preexisting paintings too:
4 women, 4 men / Fuck Authority
reminding us similar interventions by Cyprien Gaillard ("New Pittoresc" Series).
Finally, Colen defends his link to the real in the very middle of his materials. The most famous is undoubtedly the bubble-gum (
Untitled (gum), To be titled
) . He uses it like raw material directly put on canvases (we find the same practice on Adam McEwen works who is probably friend enough with Colen to be allowed to share his technical trademark…). If the attitude is inevitably provocative and punk (well, Rock'n'Roll at least, see The Virgins cover), the execution embraces and embarrasses the transcendental dimension of art from the 1950s to the 1970s.
So, yes, Dan Colen is definitively, successively and simultaneously, the King, the Conceited Man, the Drunkard, the Businessman, the Lamplighter, the Geographer, the Aviator, the fox, the flower… but he remains, first and above all, quite a strange Little Prince.
By Benjamin Bianciotto
[Picture : Dan Colen,
Untitled (zippideedoodah)
, 2006. Installation view from :"Day For Night", 2006 Whitney Biennial, curated by Chrissie Iles and Philippe Vergne, Whitney Museum of American Art, New York. Mixed media sculpture: wood, wire, polyurethane, paper mache, gesso, oil paint Approx. 6 x 4 feet, base approx. 1 ft. tall. Courtesy the artist & Peres Projects Gallery, Los Angeles & Berlin]