May 26 2009
3
26
/

05
/

May
/

2009
10:30
Israel, a name that usually evokes more images of religion, conflict, than images of art. But in the hyperactive and cosmopolitan Tel Aviv, contemporary art is actually leaving and growing with power and grace. Dvir Gallery is one these delicate places which takes care of the Israeli creation and in the same time brings in the finest actual international art. Mircea Cantor, Adel Abdessemed, Douglas Gordon, Boris Makihailov, Lawrence Weiner are among the foreigner artists the gallery represents.
In the following interview, Yotam Intrator, assistant director of the
Dvir Gallery
, shares his passion for Israeli art and give us a sense of the Tel Avivian very singularity, which gives birth to great works of artists as Eli Petel, Ariel Schlesinger, Pavel Wolberg, Miri Segal etc…
This conversation is an occasion to discover this intimate but renown gallery, and get a different perspective about lifin Israel, as an incredible melting pot of ideas, and an active art creation.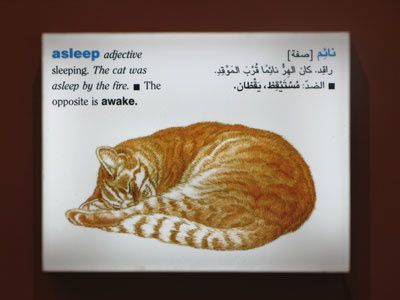 Created in 82', Dvir Gallery came to represent more and more international artists. Today, out of 27 artists, 11 are from abroad, how did this international expansion happen?
For the first exhibition the gallery opened with artists like Kokochka, Atlan etc', so it always had worked with international artists. As for the expansion, the change came naturally; we started to do art fairs and expand our activities in Israel and abroad. Our artists started exhibiting abroad, in museums, art centers and so on and the international artists presented us to other artists and galleries.
What kind of relation did you want to create with international artists?
Our taste never changed. I wouldn't characterize it, in a precise way, but I think it is very obvious. When you see an exhibition in the gallery, you have a very clear sense of what we are showing and what we like.
What is this specificity that you show in every exhibitions?
It is very hard to define… It is an emotional process
When foreigner international artists exhibit in the gallery, they often are in private residency and create specific works for the occasion, how the fact of being in Israel affect their creations?
Israel is a very complicated place on the one hand, and on the other it strikes people directly and makes them think of their own situation. Most of the time staying in Israel, spending time together, creates a mutual interest from an intellectual point of view or a sentimental one, sometimes both of them, a kind of magic between the artists and us.
In December 2008, the group Claire Fontaine made a very potent performance by in burning the Hebrew words 'Palestine Occupied". A few days after, the Gaza War started. What was the reaction of the people who came to the gallery?
There were many arguments, political ones that were sharpened during the war in Gaza, but I think for any work of art, people project their own ideology on it.
Do you think art should involve in politics? How do Israeli artists deal with the actual situation?
Each Israeli artist has his/hers own world which is created following a cultural background, a point of view, ideology, feelings, etc'. As for the gallery and in the art world, I think that it's a very delicate balance between the aspiration for normality in Israel and the conflict. we try to react to the situation as for example our next show: is entitled "it won't stop until we talk". It is the slogan of an organization which is combined of Palestinians and Israelis who lost loved ones during the conflicts. The artists who will be exhibiting in the show are: Adel Abdessemed, Claire Fontaine, Ignacio Lang, Yehudit Levin, Paulien Oltheten, Miri Segal and Pavel Wolberg. It will deal in general, with communication and the way people are fighting between themselves, between their communities, and we are doing it here in Tel-Aviv, referring to the slogan "It wont stop till we talk"
Apart from Adel Abdemessed, and Latifa Echkhch, who is currently exhibiting in your group show "Lichtzwang", I don't see any Arab or Palestinian artists in the gallery, could you explain this hard situation of collaboration with Palestinians?
First of all we like to work with good artists who share the same state of mind, and aesthetical tastes. That has no relation to their origins. Secondly, Palestinians have difficulties to exhibit in galleries in Israel, which is perfectly understandable.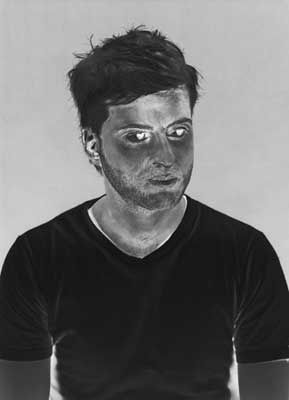 You mean that it comes from their own will?
Yes, of course. And we would work with Palestinians or Pakistanis or other artist wherever they come from, if we had the opportunity to.
Did you ever have collaboration projects?
Unfortunately not.
Could you define, in a few words, Israeli
Contemporary art?
Talented, lots of energy, freshness, intelligence. This strong energy you can feel even by walking the streets of Tel Aviv. People here are incredibly active looking forward on doing things, finding, researching, exploring etc..
Located in the heart of Middle East, Israel is a mixture between occidental and eastern Culture, how does it affect the local art?
It is a sort of microcosm of the world. Sometimes it is a real melting pot, when it actually functions, because it doesn't all the time. Sometimes there are clashes between Israelis because they come from different backgrounds and communities, or the conflict with our neighbors. But when it does work, it's beautiful and so is the art.
Any example?
Eli Petel. Born to parents of Jewish-Iraqi descent he is one of the only Israeli artists of his generation whose work addresses his "Arabic" cultural background raising questions related to identity, geography, society, religion and history in a country were the media's international and local coverage concentrates on the Israeli-Palestinian conflict, situating Jews and Arabs on opposite sides.
Dvir Gallery travels from fairs to fairs, from the Fiac to Art Basel passing by the Armory Show, how is perceived the Israeli art internationally?
It is well perceived. I truly believe that there is in Israel a great pool of talents that finally reach appreciation from the art world and the art market.
How is the art market for Israeli art?
It is evolving rapidly. Israeli artists sell well in Israeli galleries and abroad. Even major auction houses like Sotheby's and Christie's have special auctions for Israeli art, some artists also appear in Contemporary art auctions.
The gallery made some auctions, how is the art market inside Israel?
Israeli market is evolving, not at the same speed as New York or London, because it is a small country, Our auction house was established to promote Israeli Contemporary art which is not like most of the auctions houses here who sell Modern and traditional works, Judaica, etc'. and it worked beautifully; we stopped it because it was a bit too much with the publishing house and the gallery. But it was a good adventure.
Crisis here too?
For good and for worse everything here has a different paste. We are used to crisis's and one should remember that the art market here doesn't sell for millions. We remain a bit apart.
What is your aim for the Tel Avivians when they come to your gallery?
To continue to work in the same way, to promote and show Israelis and international artists at their best.
In ten years, how would you expect the gallery and Israeli art to be?
Getting better, always evolving, more artists, more shows, more galleries…
Any specific future projects?
Wow, there are so many projects. For instance we just opened an exhibition, 'The man with the Pumpkin head', at the Ein Harod Museum with Orna Bromberg, Moshe Mirsky and Karen Russo. Barak Ravitz is going to the Cité Internationale des Arts in Paris. Karen Russo will open solo show at Paradise Row in London, Miri Segal will open a solo show at the Kamel Mennour gallery in Paris etc…
[Visuals : Above : Claire Fontaine,Visions of the World (Asleep), 2008, lightbox and digital print, 90X70 cm. Courtesy Dvir Gallery. Below : Eli Petel, Negative Portrait 2, negative print, 165x125 cm.Courtesy Dvir Gallery]