April 20 2009
2
20
/

04
/

April
/

2009
14:50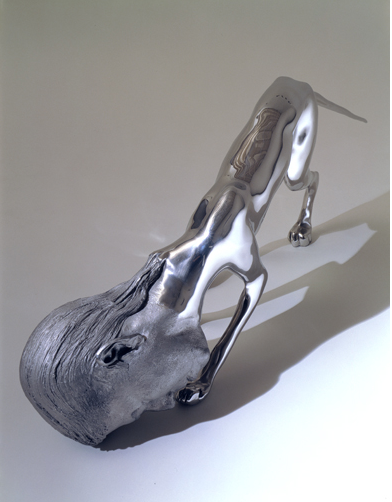 One of the best artists to render through sculpture the exploration of human and animal fusions is the American sculptor Rona Pondick; "The metamorphosis of an Object" is an original proposition of the
Worcester Art Museum
which offered the artist to select sculptures from the museum's collection and confront them to her work.
Her selection goes to three different aspects of sculpture : The communicative capacity of gesture and posture, the treatment of hairs, and the effect of repetition. But before going further in the exhibition, we must explain her own process of creation, which gives birth to hybrid representations, mixing plants with human, or human with animals: She makes a mould of some part of her own body, she modifies it with high three dimensions technologies on her computer, and then molds it in bronze, stainless steel or silicone. Thus, it is her
own
body that she transforms and mixes with other biological forms.
The creatures she makes have a double effect: first when we face her sculptures, an ambiguous otherness, both beautiful and repelling, calls our whole sensitivity. The fineness of the replicated skin mixed with other forms is difficult to interprete : we could advance this idea of uncanny , the expression of the familiar with something repulsive. Indeed there is one part that we know very well, like the duplicate of a hand or a face, but it is mixed with something unknown, and this transformation is frightening. Secondly, they recall us the actual uneasiness of the scientific researches and our own fear about this close future: the cloning, the genetically modified organisms etc… Nowadays, scientists are going so far in human and animal manipulations that bio-ethics conferences are settled in the whole world. Thus, going back to the ancient representations of human metamorphis is an intelligent way to confront the fear of the past with our own.
Besides, this echo of creations makes us pervade the boundaries of the body's universe through generations of artists, and gives us a fresh new look to old master pieces. The artist says : "I want to look at how sculpture is physical and how the physical makes psychological impact. Viewers have conscious and unconscious visceral responses to objects that they feel in their own bodies and that make psychological meaning. I am interested in looking at the way the psychological has been manifested in sculptures from all periods. When these different historic sculptures and mine are installed next to one another, there is a visual communication spoken in "body language" that needs little explanation. The sculptures start losing their historical place and take on more physical, emotional, and visceral relations with the viewer. Gestures and postures don't translate solely into symbolic interpretations particular to a culture or time period. Otherwise, why would people look at historic work?"
Parallels with ancient works is indeed very helpful to understand better both contemporary problems and art; and it seems that more and more museums use this subject to valorize their own collection, like the
Bass Museum of Art
with "Endless Renaissance", and it actually brings new people to museums that are not always turned to contemporary art.
So if you want to dive into the Ovid's Metamophoses of Rona Pondick, don't hesitate, the experience is mezmerizing.

Rona Pondick was born in Brooklyn, New York in 1952. After studying at Queens College, she received her Masters of Fine Arts at Yale University School of Art in 1977. Pondick gained public recognition in the mid-1980s, and since that time her sculpture and site-specific installations have been shown in important individual and group exhibitions throughout the world. Her work is included in major museum and private collections internationally. Pondick is represented by Sonnabend Gallery, New York and Galerie Thaddaeus Ropac, Paris/Salzburg and exhibits regularly at Howard Yezerski Gallery, Boston.



[Visuals: Above
: Rona Pondick, "FOX", 1998-1999, stainless steel, 37 x 9 x 14", ed.5 of 6 courtesy Howard Yezerski Gallery]